This store requires javascript to be enabled for some features to work correctly.
Where elements meet, magic happens
Our View
Slowness and thoroughness are virtues in the atelier on Laan van Meerdervoort. The philosophy is rooted in the luxury of the private moment where the interaction between texture and shape gives a touch of joy. The passion is in the detail.
In her atelier in The Hague, Monica Nielsen has been creating ceramic tableware under the name Babette uit Babylon Keramiek since the spring of 2021. A clay-dream has come true for Monica in the atelier on Laan van Meerdervoort with a store front and a workshop with teaching facilities. 
Focus is on producing ceramic tableware and decorative objects. Everything is handmade and only in small batches. Therefore you will often find new pieces on the shelves as they come out of the kiln.      
Babette uit Babylon is a nomad in time and space. With a touch of mystery, she loves to create fertile ground for alluring stories and acts as a catalyst for enchantment moments.  
Inspiration is found in historical works of art and ceramics, geological excavations as well as beautiful objects created in nature. 
Each product is crafted from stoneware* clay with glazes that interact with the clay to give it a natural finish. Most pieces are made on the potter's wheel, then trimmed and often carved with decorations. Products which are not round, like the oval vases, are formed from a slab of clay and built up by hand. The glaze is applied with a brush in three layers. All items are fired twice, a so-called bisque firing followed by a glaze firing.
*Stoneware is made from a particular clay which is fired at a temperature higher than 1,200°C. This results in a more durable material, with a denser, stone-like quality. The finished product will be waterproof.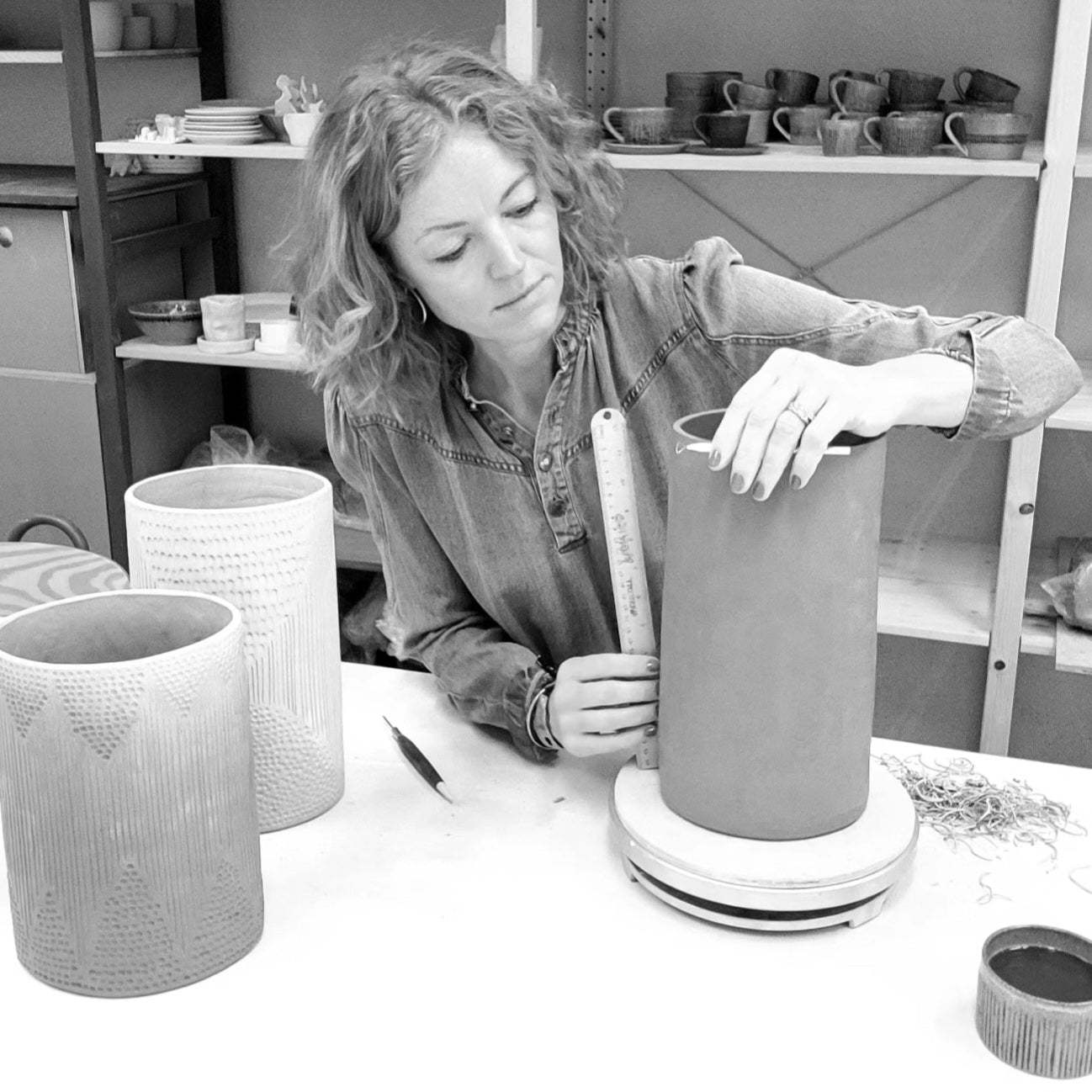 Monica Nielsen
Our Maker 
The atelier is a melting pot of all Monica has brought with her from a well traveled life. When growing up in Denmark creative expression was essential to her and there the Scandinavian tone became a part of her DNA. 
Monica has an educational background as Business Development Engineer where focus has been on developing ideas and the structure of the developing phase. In a pottery studio in North Carolina Monica acquired the skills of controlling the clay. 
Encounters with other cultures in both real life and literature are always rewarding sources of inspiration. In particular, a 4-year stay in Kenya has been part of her formation. "My time in Kenya really opened my eyes to handmade objects and their authenticity."
Babette uit Babylon
good to know